Servicing
To ensure the prolonged efficient service life and safety of any boiler or burner, regular servicing is essential. Servicing an appliance correctly normally entails stripping down the component parts of the ignition assembly, burner assembly and heat exchanger for inspection and cleaning. Any damaged or consumable parts such as fuel nozzles are replaced once costs are agreed with the client, and following this, reassembly to manufacturer's specification is completed. Analysis and any necessary adjustments of the combustion or fuel parameters are carried out using calibrated equipment to ensure compliance with flue emission guidelines, to maximise efficiency and ensure safe operation.

Servicing of Air Handling units helps to ensure safe and efficient operation. Consumables such as drive belts and filters should be changed at least annually but more frequently if required, dependent on local conditions.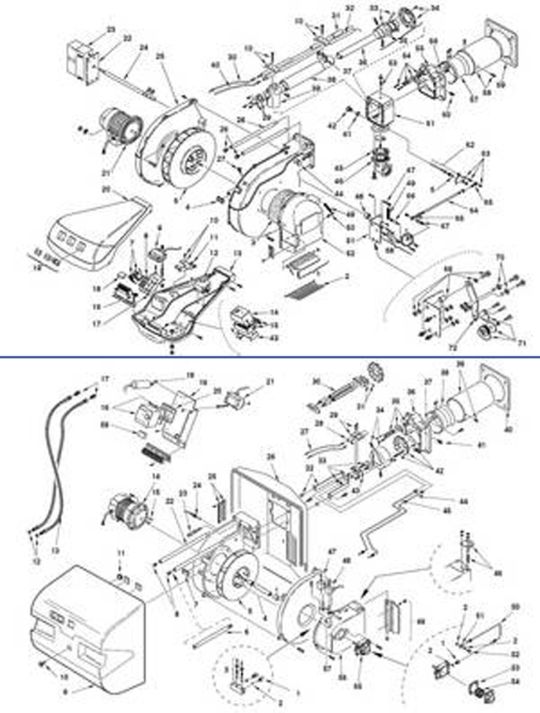 Commissioning
Commissioning entails final checking and setting of the appliance or system before use. Most suppliers and manufacturers will not honour warranty or guarantee claims unless their product has been commissioned by a suitably qualified engineer.

When an appliance is initially installed, there are several factors that influence its performance and to ensure the highest levels of efficiency and safety are achieved, the appliance must be commissioned taking into account all of these factors. During commissioning all aspects of the installation must comply with the requirements set out by the appliance manufacturer. The flue, fuel, and hydraulic systems are checked and if changes are required, these are advised. If the burner is an integral part of an air handling unit, ductwork and filtration are checked to ensure compliance. When the installation is satisfactory, and following initial firing, and combustion analysis to ensure the appliance complies with manufacturer's specification then the appliance can be put into service. A planned service programme should be discussed at this time.
Maintenance
The importance of regular, planned maintenance of any heating appliance or air handling system cannot be overestimated. A prolonged, safe and efficient performance life can only be ensured if regular maintenance takes place. Regular servicing and inspection will help minimise problems associated with component failure or consumables failure and give both client and service engineer a clear picture of the on-going serviceability of the installation.